Villa Stamata consists of two mode, newly-built (2008) maisonettes of 80m2 each with an accommodation capacity of up to six people.
On our veranda you will have moments of blissfulness enjoying your breakfast or meal in the wooden dining table gazing at the exquisite view of the surrounding environment.
At the balcony, with the bamboo fuiture, the breathtaking sea view and sounds of the Ionian Sea will offer you calmness and relaxation while you are having coffee, refreshment or drink.
Walk in our splendid paved with slabs garden paths, among the grass, the flower-beds and the trees! Live moments of unique beauty in our swimming pool, spending a leisurely moing swimming and sunbathing in a place where nature meets the sea in the most impressive way.
Sun bed chairs and umbrellas are provided. Kaminia Beach, in proximity to Villa Stamata, is a pretty enough choice if you want to experience the crystal clear waters of the Ionian Sea.
Parking spaces are also available
Tsoukalades settlement, the nearest village, offers a variety of shops - such as mini-markets, bakery, cafes, taves - and leisure facilities.
Information, photos for Villa 1 here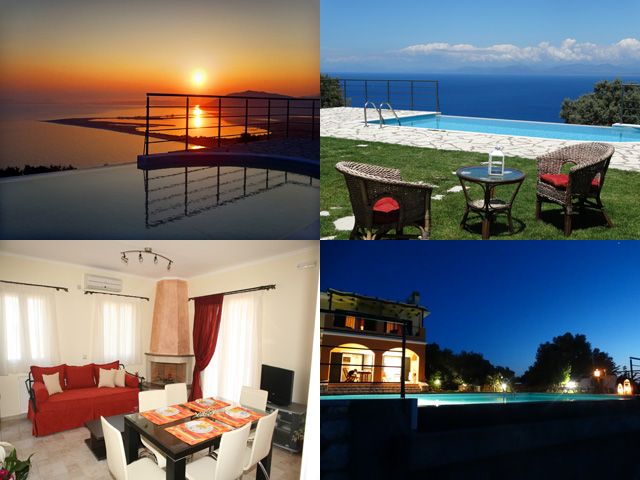 Information, photos for Villa 2 here